Whether or not to show the intro anim is stored here.
Bulk of the page-specific CSS/JS is here.
Working
Learning
Creating
Playing
Making it work
Our homes are no longer just homes. They're our offices. Our schools. Our broadcast studios. Our sports arenas. Even our new favorite pub. Here's a few tips on making the new normal work for you.
How do I schedule my day? Does ergonomics really matter? When's the right time to introduce my dog to co-workers? Here's the answers to all your burning work from home questions.
Get your monitor up to eye level
Add an unexpected guest to remote meetings
Take frequent breaks to stay productive
Make time to connect with new co-workers

Laugh about the appearance of special guest stars like your kids, pets, and spouses. It's bring your child or bring your dog to work EVERY day now.

Bracken Darrell, CEO, Logitech
Professionals aren't the only ones making it work from home. Here's tips on how students of all levels can better adjust to the new normal.
Get away from the screen to make an impact
Get creative when conditions aren't perfect
Stay connected even while apart

Thanks Logitech for providing teachers like me with tools to create high quality and engaging lessons for students during distance learning.

Christopher Rivas, K-12 Educator Giveaway Recipient
Anyone can become a content creator - even you. All it takes is an idea, some passion, and the right gear.
Share your passion with the world
Take your content to bold new places

The amount of dorky rocking out I do in my living room is embarrassing but whatever I'm having a blast.

Yvette Young, Musician
Whether you play for yourself or in front of an audience, there's as many ways to game as there are gamers. Learn how you can enhance your gaming experience today.
Play with friends or earn some rivals
Social widget here
Social widget here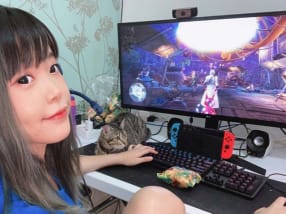 More gear
equals
more fun
Not all gaming happens on a screen

As gamers, we know more than most that social distancing is, in fact, really just physical distancing.

Ujesh Desai, GM, Logitech G
LogiCares
Learn how we're using our knowledge and resources to help communities in need during the COVID-19 crisis.
Donation to GlobalGiving Coronavirus Relief Fund

Logitech donated $100K to the GlobalGiving Coronavirus Relief Fund. That initial donation was matched by our CEO, Bracken Darrell. You can join us.

Sourcing face masks across the globe

We initially distributed approximately 100,000 masks in China, Hong Kong, and Taiwan. We've since shipped an additional 15,000 masks to U.S., Ireland, Switzerland, Italy and Netherlands sites for delivery to health workers and hospitals, with another 100,000 planned for global distribution.

Teach from Home Kits Donated

K-12 teachers are receiving thousands of webcam and headset bundles to teach outside the classroom. Learn more about effective strategies for distance learning in this webinar and see our additional resources for educators. We continue to look for ways to assist the education community.

Video Telemedicine Carts

Individual Logitech offices quickly mobilized and built Video Telemedicine Carts using our video conferencing equipment for mobile telemedicine. From China, to The Netherlands, and hospitals in the US, we're proud of how teams saw a need and delivered solutions directly to their local communities.

Designing a Home Face Shield Hack

We are a design-led company, and were concerned about the shortage of face protection available. We all know that the priority is to save the N-95 rated face masks and medical-grade shields for the front line health and emergency response teams. So we challenged our design teams to create an alternative for the rest of us.

Daily Employee Meals Donated to Local Hospitals

Our Chennai employees have donated their daily meal allocation from Kadhir Dhaan /Eco kitchen directly to Royapettah General Hospital and the Government Specialty Hospital (Omandur estate) for Covid health care workers, patient attenders, and staff. From the initiative we will be able to support 250 meals/day for these deserving people.
200k donation
sourcing face masks
teach from home kits
telemedicine carts
home face shield
employee meals