Logitech Screen Share
A fast, familiar, and affordable way to share content in the conference room and into online meetings.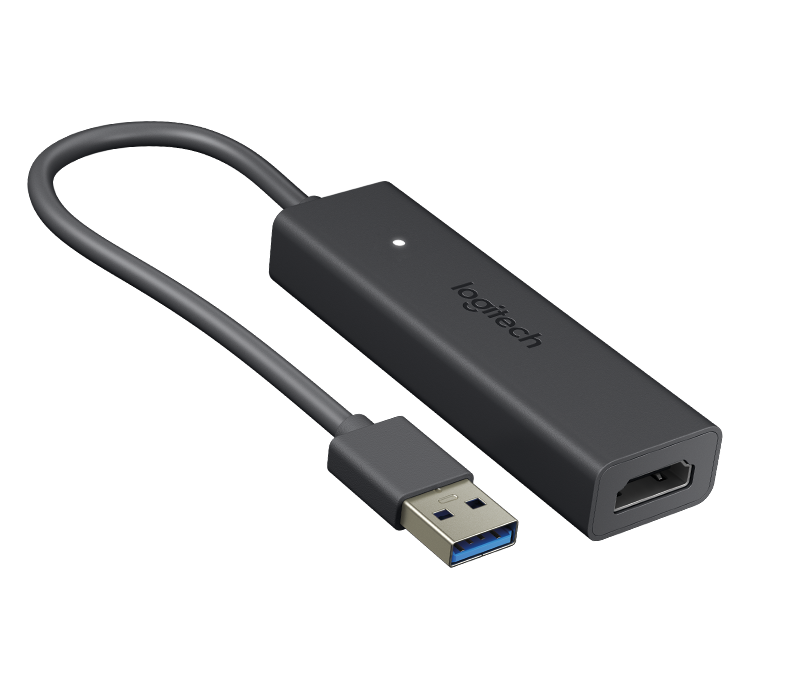 Wired content sharing for conference room computers
Share from any device with an HDMI-compatible output
Works with most any meeting or webinar service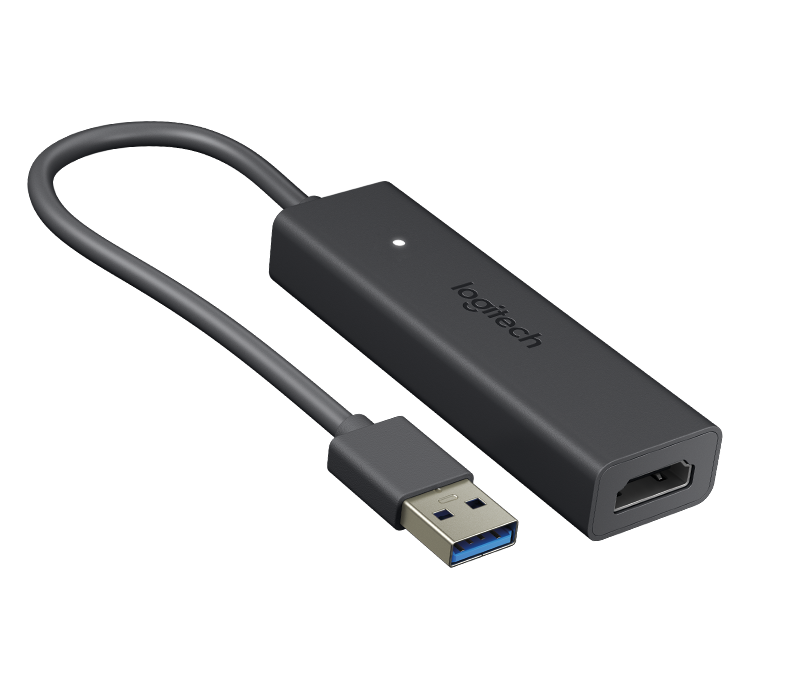 Key Features
Instant Sharing

Just plug in. Isn't that how content sharing is supposed to work? No more checking and rechecking the meeting ID or pairing code. And no more fumbling with input sources and remote controls. There's nothing to learn, no software to install, and you don't even need to be online. Simply connect and present.

Share to Any Meeting

Don't leave remote colleagues at the dark end of a conference call. Logitech Screen Share works with Zoom, Skype for Business, WebEx, BlueJeans, and other meeting services that support content sharing.

Compact and Powerful

Packed with video encoding technology and yet surprisingly compact, the Screen Share Device (1) connects to the conference room computer via USB, and (2) provides an HDMI input for instant content sharing.
Additional Features
In-Room Projection
Stop crowding around a laptop! Just connect to Logitech Screen Share to project your presentations, spreadsheets, documents, and videos on the in-room display.
Adapter and Mobile-Friendly
For devices without a built-in HDMI port, simply connect a suitable adapter. This lets you share from any device with a video output, including smartphones, tablets, ultrabooks, digital cameras, and media players.
HD Video + Audio
Share a preview of your latest video project. Get feedback on work-in-progress. Showcase your portfolio from YouTube and Vimeo. With support for HD video and audio over HDMI, Logitech Screen Share lets you present videos as they were meant to be seen and heard.
Sharp and Responsive
Jumpy cursors and jittery screens frustrate participants and disrupt meetings. With its ultra low-latency HDMI connection and on-board video processing, Logitech Screen Share delivers a sharp and responsive experience in every meeting. This means natural-feeling navigation, instant typing, smooth scrolling, and 1080p HD video at up to 30 frames per second.
People + Content
The Screen Share Application runs on the in-room computer for easy sharing into online meetings. Meanwhile, the in-room video and audio remain active, so presenters can share content -- even videos with sound -- and be seen and heard at the same time.
Complements ConferenceCam Kit
Add wired content sharing to rooms equipped with Zoom Room systems and other PC- and Mac-based conference room solutions to instantly share your screen into any online meeting.
Dimensions

Screen Share Device

Height x Width x Depth:
14.2 mm x 24.7 mm x 83 mm

System Requirements

Compatible with:

Windows® 71, Windows 8.1, Windows 10 or later
macOS 10.10 and higher

Input/Output:

Input: HDMI 1.4a and higher
Output: USB 3.0 or 2.0


1 Additional configuration may be required.

Technical Specifications

Performance

Video Input: 1280 x 720 (720p) or 1920 x 1080 (1080p), up to 60 fps

Video Output: 1920 x 1080 (1080p), up to 30 fps

Audio: 48 KHz/ 16-bit PCM

Package Contents

Screen Share Device
Documentation
Hook and loop fastener
Cable management mount

Warranty Information

2-Year Limited Hardware Warranty

Part Number

Dark Grey: PN: 939-001553
Quick Start Guide

Get started with Logitech Screen Share.

Screen Share Application

Runs on the conference room computer for easy in-room projection and online sharing.

Requirements:

Logitech Screen Share Device
Windows 7, 8.1, 10, or macOS 10.10 and later

Product Support and Troubleshooting
Contact Sales
Our team of product experts can help you find the best solution for your company. Fill out the form and a Logitech representative will contact you.
Get Support
For technical support questions, visit our
Video Conferencing Support portal
Logitech Screen Share
A fast, familiar, and affordable way to share content in the conference room and into online meetings.