LOGITECH STRONG USB CABLE
Extended-length SuperSpeed USB 10 Gbps cables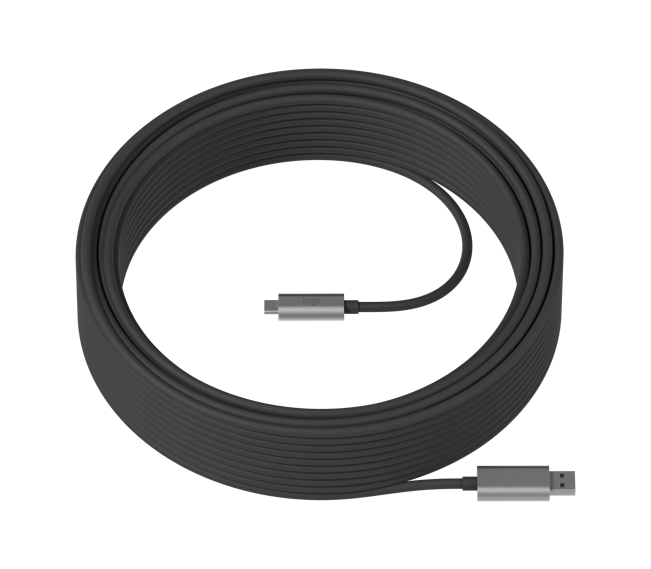 10 and 25 meter lengths for long cable runs
Plenum-rated and Eca certified for in-wall installation
Aramid-reinforced for strength and reliability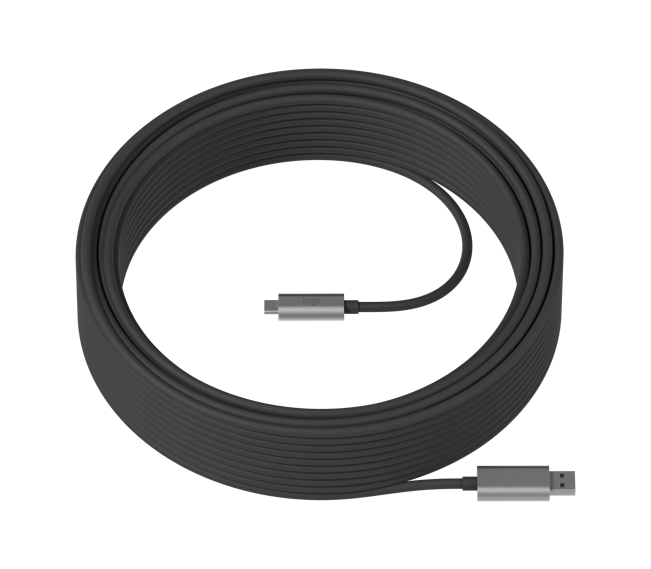 Key Features
EXTENDED REACH
Available in 10 and 25 meter lengths, Logitech Strong USB lets you deploy a self-powered USB device or hub at a significant distance from its host PC. Locate self-powered devices like the Logitech Tap touch controller for easy access, but hide the host PC in a cabinet, closet, or behind a display.
RELIABLE STRENGTH
Unlike ordinary USB cables that can break when subject to pulling and crushing forces, the aramid-reinforced Logitech Strong USB is built to last. With 200 newtons of tensile strength and a 1000 kg crush load, Logitech Strong USB stands up to commercial deployments in walls, above ceilings, and through conduit. Compatibility with the cable retention systems of Logitech Tap and PC Mount keep connections tight and secure.
FAST AND COMPATIBLE
As an active optical cable, Logitech Strong USB delivers up to 10 Gbps for devices with their own power supplies, including Logitech Tap, Rally Camera, and Meetup. Compliance with the USB 3.2 Gen 2 specification assures backward compatibility with USB 2.0, 3.0, 3.1 devices and computers.
Technical Specifications

USB 3.2 Gen 2 active optical cable

USB Type A (male) to USB Type C (male)

Throughput: SuperSpeed USB 10Gbps

Aramid-reinforced for commercial installation

Tensile strength: 200 newtons

Dimensions

COMPATIBILITY

Self-powered USB 2.0/3.0/3.1/3.2 hubs and devices with external power supplies

Not compatible with Logitech BRIO and other USB bus-powered devices

CERTIFICATIONS

Eca/IEC 60332-1-2 Compliant

Package Contents

Logitech Strong USB-A to USB-C Cable: 10 or 25 meters
USB-C extension cable for tight spaces: 152 mm
Documentation

Warranty Information

2-Year Limited Hardware Warranty

Part Number

10 Meter

PN: 939-001799

25 Meter

PN: 939-001802

Contact Sales

Our team of product experts can help you find the best solution for your company. Fill out the form and a Logitech representative will contact you.

Call Us

Call Logitech now at 800-973-2156

Sales reps are available 8:30 - 5:30 CST

Get Support

For technical support questions, visit our
Video Conferencing Support portal

Logitech Strong USB

Extended-length SuperSpeed USB 10 Gbps cable

Extended-length SuperSpeed USB 10 Gbps cable

GBP 275.00 - 639.00

Free shipping on orders GBP39.00 and over.