OVERVIEW
FOUR VERSATILE MODES

With a detachable keyboard and adjustable kickstand, transform Slim Combo into four use modes for amazing versatility.

Type Mode: Click the keyboard into the upright position to type away on notes, emails, and more.

View Mode: Set keyboard aside and use the adjustable kickstand to get the perfect angle for viewing movies and shows.

FaceTime Mode: Set keyboard aside, pull out the kickstand, and orient vertically to video chat hands-free at the optimal angle.

Book Mode: Set keyboard aside and fold the kickstand back to comfortably read books, magazines, PDFs, and more.

ALL PRO. ALL DAY. ALL NIGHT.

Full-size backlit keys, smart iOS shortcuts and the most laptop-like typing experience on iPad Pro.

PRO STYLED PROTECTION

Keep your iPad protected from scuffs and scratches in an impossibly slim keyboard and case combo for 12.9-inch and 10.5-inch iPad Pro.
SIMPLE SET UP

Step One
Click the iPad Pro into the holder – first the top left corner, then top right.

Step Two
Open the kickstand on the holder and set iPad Pro at a comfortable angle. Adjust if needed.

Step Three
Attach the keyboard, aligning the 3 connector pins with the 3 connector pins on the side of your iPad Pro.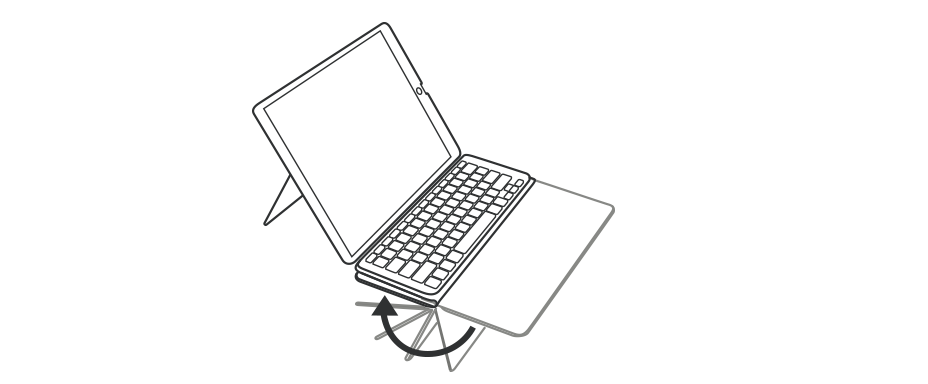 Step Four
For iPad Pro 12.9 inch, fold the keyboard palm rest under for a more compact footprint.
iPad Pro

CONTROLS AT YOUR FINGERTIPS

A full row of iOS shortcuts puts the power of iPad Pro at your fingertips:

1 - Home: Go to home screen
2 - Screen brightness: adjust screen brightness up or down
3 - Search: bring up iOS search field
4 - Virtual Keyboard: shows/hides the virtual keyboard
5 - Backlighting: adjust brightness of keyboard backlighting
6 - Media controls: Back, Play/Pause, Forward
7 - Volume controls: Mute, Volume up, Volume down
8 - Screen on/off - locks iPad Pro screen
SLIM COMBO
A HOME FOR
Apple Pencil

(1ST GEN)

Apple Pencil (1st gen) brings a whole new creative experience to your iPad Pro, and Slim Combo's Apple Pencil holder makes sure it's always by your side. Slide your Apple Pencil into the holder– where it won't get lost, or in the way.
FORGET ABOUT CHARGING. FOREVER. 
Slim Combo has been designed specifically for the 12.9-inch and 10.5-inch iPad Pro. The keyboard has no charging cable, batteries, or blinking indicator light – getting all of its power directly from iPad Pro. It uses minimum power – 0.3%-2.3% of iPad Pro battery for every hour of typing. Plus, any iOS updates are communicated directly to your keyboard via Smart Connector.
SLIM COMBO FOR iPad Pro 10.5-INCH AND iPad Pro 12.9-INCH (1ST AND 2ND GEN)
Backlit keyboard case with Smart Connector
Backlit keyboard case with Smart Connector
AUD 219.95 - 249.95
Free shipping on orders AUD80.00 and over.
Compatible Devices

iPad Pro 10.5-inch
A1701, A1709, A1852

iPad Pro 12.9-inch (1st generation)
A1584, A1652

iPad Pro 12.9-inch (2nd generation)
A1670, A1671, A1821

Modes

Type, View, Facetime, Read

Viewing Angles: Adjustable

20 to 70 degrees
Facetime mode: fixed 73 degrees

Dimensions

SLIM COMBO for iPad Pro 10.5-inch

SLIM COMBO for iPad Pro 12.9-inch (1st and 2nd gen)

Technical Specifications

Power and Connectivity

Powered directly by iPad Pro via Smart Connector - does not have batteries or charging cables

Connects to iPad Pro directly via Smart Connector. Provides secure physical connection between the keyboard and iPad Pro. Does not require Bluetooth® pairing

Automatically updates firmware, as necessary when connected to iPad Pro via Smart Connector

Backlighting automatically turns off 8 seconds after the last key stroke

iPad Pro auto on/off when keyboard opened /closed

Case

Space to store Apple Pencil (1st generation) Front and back protection

Access all ports: camera / audio jack and microphones

Keyboard

3 adjustable levels of backlighting

Foldable palm rest (12.9 inch model only)

Slim Combo for iPad Pro 12.9-inch (1st and 2nd generation)
19 mm key pitch
1.5 mm key travel

Slim Combo for iPad Pro 10.5-inch
17 mm key pitch
1.5 mm key travel

Row of iOS Shortcut Keys (Left to Right)

Home - serves the same function as iPad Pro home button

Search - brings up search field

Media control - Previous Track / Rewind back

Media control - Play/Pause

Media control - Next Track / Rewind forward

Lock - locks iPad Pro screen

Warranty Information

1-Year Limited Hardware Warranty

Package Contents

Slim Combo Keyboard Case
Documentation

Part Number

for iPad Pro 12.9-inch (1st and 2nd gen)

Black: PN: 920-008364

Blue: PN: 920-008422

for iPad Pro 10.5-inch

Black: PN: 920-008376

Blue: PN: 920-008409