Pangea temporary hotfixes here
A Better Classroom for Students
A few changes to your class can make learning accessible and fun for all students—regardless of age, learning style, or location. The right tools can break barriers, allowing students to collaborate without distraction, so nourishing educational experience is always within reach.
Background Noise
A noisy classroom can get in the way of learning—especially with students using personalized apps and activities that involve sound.
Navigation
With their motor skills developing until their teens, some students may be inhibited by the ubiquitous trackpad.
Productivity
On-screen keyboards can take up precious screen space, making it more difficult for students to benefit from learning apps. All that screen time requires new ways to be efficient. 
LESS NOISE. DEEPER FOCUS.
With students learning on personalized apps in a classroom setting, it's more critical than ever that they be able to focus—especially with many students learning at different rates. A high-quality headset can block background and keep students in their learning zone, while a microphone ensures that students are clearly heard.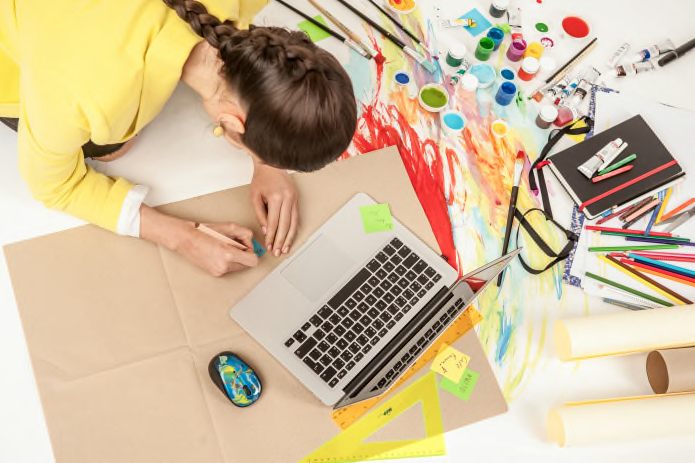 NAVIGATION THAT CLICKS
Chances are, your students' motor skills are developing—even into their teens—which means trackpads can pose a challenge.  This can make students less quick and precise when it comes to interfacing with learning apps, keeping them from getting the full benefit of these resources. But with a mouse, it's a different story. A mouse is easier to use, and lets students get more from their valuable learning apps, increasing efficiency in their assignment work. It can even give their overall achievement a boost!
TYPE. CLICK. LEARN.
With iPads playing an integral part in the classroom, students are using touchscreens for long periods of time. This can be fatiguing to their muscles, making students less effective over time. The Rugged Combo 3 keyboard case makes things a whole lot easier, with better, more intuitive typing, and an attached keyboard that frees up screen space.  Adding a mouse to the setup—whether your student uses an iPad or a laptop—makes them  30% faster and 50% more productive. (Studies prove it!)
CREATIVITY, EXPRESSION, AND LEARNING
Students learn better when they express concepts in their own way—but using just one device to learn can be limiting.
THEIR LEARNING. THEIR WAY.
Students learn when they express concepts in their own way—it just comes down to using the right tools. Students can use a presenter to take ownership of their ideas, with the power to present from anywhere in the classroom. A headset with a clear microphone ensures that your student is heard, particularly when using personalized learning apps.
IN THEIR WORDS
Crayon allows students to intuitively write, diagram, or illustrate their ideas. Being able to internalize and express complex ideas makes the learning process a whole lot easier—and in that arena, Crayon is a total rockstar.
REMOTE AND HYBRID LEARNING
How do students learn effectively when they can't physically be there?
OUTSIDE CLASSROOM WALLS
Bringing in outside experiences and experts can enrich the classroom.
JOIN FROM ANYWHERE
Students can go ahead and take a seat in class—from their living room. HD video collaboration in K-12 classrooms brings remote students into class when they can't be there in person, and mimics the lifelike experience they need to thrive, while keeping the classroom size low. Webcams and conference cams from Logitech make it possible.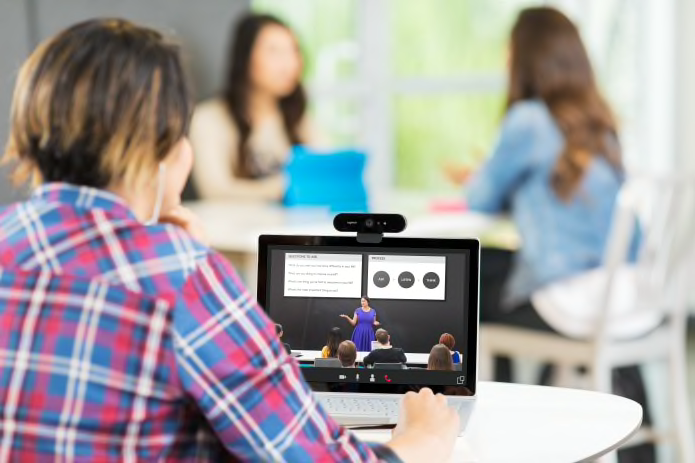 TAKE CLASS EVERYWHERE
Experience the classroom at the furthest reaches of the globe, or hear from an expert in another time zone. Virtual field trips, plus virtual lessons from outside experts can provide dimension, color, and an immersive learning experience for students. Webcams from Logitech bring your class out in the big world.
A BETTER CLASSROOM FOR EDUCATORS
A few changes to your class can make learning, lesson planning, teaching to a whole new level. That means smarter and more intuitive controls for presentations, lesson planning, and assignments, bringing class to life and making administrative duties a breeze.
IN-CLASS LESSONS
Some tools just weren't built for your dynamic class sessions.
PLANNING AND PREPARING
Doing all your lesson planning from a laptop? That can slow things down.
CLASSROOMS COME TO LIFE
Tools like Logitech Crayon let educators navigate their screens live, work out problems or lessons on an ipad, or even collaborate directly with students—all while staying mobile. Adding a Blue Microphone to the deal ensures that your remote students can hear you.
BREEZY LESSON PLANNING
If you're working from a laptop, a mouse speeds up the process of lesson planning and taking care of administrative tasks. Adding a mouse even boosts speed by 30%, and productivity by 50%.
TAKING LESSONS TO NEW HEIGHTS
PRESENTATION
Tech is everywhere in the classroom, so educators may need new ways to keep students' focus.
COMMUNICATION
Digitized classrooms require new tools for collaboration and communication.
MORE DYNAMIC CLASSES
It's a whole new dimension for lessons. Students love visuals, and a presenter can help you bring your lessons to life from anywhere in the room. Spotlight for presenters—and mice!—allows educators to really zero-in on screen content, all while circulating the classroom (or sitting at a desk).
FLEXIBLE AND VERSATILE
Logitech Crayon is compatible with thousands of apps, allowing educators to share their ideas, motivate their classroom, and offer a real treat for visual learners. Use it to construct tables, draw diagrams, build graphs, or show steps of an equation. 
YOUR CLASSROOM GOES ANYWHERE
STUDENT CONNECTION
With students learning remotely, effective communication presents a few hurdles.
STAFF AND PARENT CONNECTION
Educators are tied to their laptop more and more. How do they connect with staff and parents?
CONNECTING WITH STUDENTS
With an increased need for remote and hybrid learning, Meetup makes it easier for students join class from home. Students can connect with educators over lessons and projects—or just talk about life.
CONNECTING WITH STAFF AND PARENTS
Flexibility is key when it comes to communication. When educators are tied to their laptops, adding a  webcam or conference cam to a cart or desk can open up new possibilities for planning, and let them teach seamlessly no matter where their students are. That also means meetings with parents, trainings, and staff meetings — anytime, anywhere.
THANK YOU FOR CONTACTING US
A product expert will reach out to you shortly.